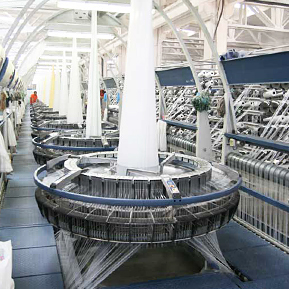 Raw materials that comply with standards are taken into production line. Tape yarn production is made by high speed,also fibrillated fibers with requested featureas are made.
Fibers that are produced on fiber line are put through endurance tests and the appropriate ones are sent to the shuttle looms. In loom control unit, fabric production settings can be adjusted per customer request.
Fabrics are wrapped in beams. In wide-width weaving looms, hooded and consolidated circular fabric up to 250 cm can be produced. Than fabrics get laminated in requested features according to the use area with extrusion principle.
After being processed in weaving, print or lamination, the fabrics are cut the planned sizes. After cutting process, the sacks are put through a one or two layer bottom-stitchwork, where the high-endurance fibers made by UCAR PACKING are used.